Curtis B. Skouby, P.E.
Director of Public Utilities

Curtis B. Skouby, P.E.
Water Commissioner

City of St. Louis Water Division
Dept. of Public Utilities
1640 S. Kingshighway
St. Louis, MO 63110

(314) 633-9000


Click Here for Directions
Bissell Point Plant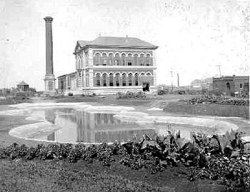 Once located at the corner of Bissell and Blair, the Bissells Point Plant has been credited as being the first major water treatment plant in St. Louis. Although built against the better judgment of James Kirkwood, the Bissells Point Plant was the brainchild of the first Board of Water Commissioners.

The Bissells Point Plant was put into operation in 1871. Upon its opening, the plant contained a high and low pumping station, settling basins, standpipe and a storage reservoir at Compton Hill. The initial pumping capacity of the plant was a mere 65 mgd. A filter plant was later added under the prior plans of Kirkwood.

The coal burning, steam powered plant sported a 134 foot smokestack. Built with brick and heavy stone trim, the plant's decorative exterior made it an imposing sight. Additions to the Finished Water, or High Service, Pumping facilities took place from 1881-1894. The construction of the Chain of Rocks Plant began in 1887, and upon its opening in 1894, the raw water pumping of Bissells Point went out of service.

Operations in high end pumping at Bissells Point continued until 1960, when the plant was closed. After closing, the Bissell property was purchased by the Metropolitan Sewer District. Presently, the MSD's Bissells Point Wastewaer Treatment is located where the Bissell's Point Water Treatment Plant once stood.
Return to History